Sidhu Moose Wala Death : AN-94 असॉल्ट राइफल से सिद्धू पर हमला : करीब 30 गोलियां चलाई गई थीं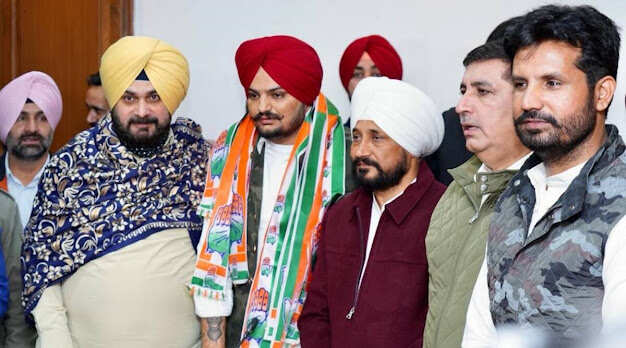 Was Sidhu Musewala murdered because of non-payment of ransom? With the statement of singer Musewala's father, this case of murder seems to be taking a new turn. In the FIR written after the murder of Sidhu Moosawala, his father's statement is there.
Moosawala's father Balkaur Singh has told that his son was getting threats from gangster Lawrence Bishnoi's gang and ransom was being demanded. According to the father, Moosawala had received several threatening calls for ransom.
Musewala left the bulletproof Fortuner and went to Thar
Father Balkaur Singh further told that due to the threats, the family had also bought a bulletproof Fortuner car. But on Sunday, his son had left the house with two of his friends (Gurwinder Singh and Gurpreet Singh) in a Thar car. The father told that Sidhu had left both the bulletproof car and the gumman at home.
Balkaur Singh said, 'I followed him (Sidhu) with his government gunman and went in another car. On the way, I saw a Corolla car following my son's Thar. There were four people in it.
The father said that when my son's Thar reached near the phirni (outside road) of Jawaharke village, there was a white colored Bullero car waiting already parked there. Four people were sitting in that too.
Sidhu's father further told that as soon as my son's Thar reached in front of that Bolero vehicle, the four youths fired indiscriminately at Thar. Then after firing for a few minutes, he fled from there with the Bullero and Corolla car.
The father told that as soon as he reached the spot, he made a noise and called the people around. Then his son and both friends were taken to the hospital.
For the murder of Punjabi singer and Congress leader Shubhdeep Singh alias Sidhu Musewala, the police have registered a case under sections of the murder, attempt to murder and Arms Act.
Sidhu Musewala attacked with AN-94
Earlier it was revealed that Sidhu Musewala was attacked with AN-94. Three rounds of AN-94 rifle have been recovered from the spot. It has also been learned that eight to ten attackers were involved in this attack who fired more than 30 rounds at Sidhu Musewala.
Related Topics
Share this story